POSTPONED Discover the Beauty of Wet Felted Landscapes with Fay Hodson
In this workshop, you'll learn to use a variety of coloured wools and unusual fibres to create unique felt landscapes. This workshop is suitable for beginner and experienced felters.
We'll start with making a felt "sampler" to work on basic felting techniques and experiment with surface fibres. Next, we'll create a felt landscape – the main project. Weather permitting, we'll take a short walk to be inspired by the spectacular Leighton Centre panoramic view and discuss some of the principals of creating a landscape. We'll follow a basic project design, although participants may choose to be more adventurous if they wish. Fay will bring along some examples of other completed works and we'll talk about techniques that you may want to try on your own.
Overview of Class Content:
Review of the basic steps of making felt from wool roving or batt

Laying out a landscape and "painting" with wool using blending and overlaying techniques

Experimenting with various textural fibres to provide surface detail

Discussing needle-felting and stitching options and experimenting with them as time allows

Discussing ways that your finished product can be supported and displayed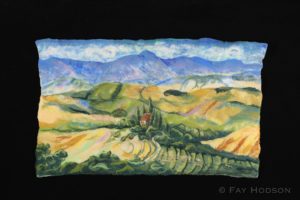 Audience: This workshop is suitable for adults and teenagers.
Supplies: All Supplies are included in the workshop. They include the wool, pre-felt and fibres (e.g. bamboo, silk, banana, curls).
Please bring from home: Notebook and pen, scissors, waterproof measuring tape or ruler, tweezers, two or more bath towels (approximately 36 X 20 inches at least), basin or bowl (shoebox size is good), and your wet-felting tools if you have them – bubble wrap (two pieces at least 16 X 19 inches – bubbles approx.1 cm in diameter), rolling noodle, watering bulb (plastic water bottle with holes in lid will work), soap, small cheese grater if you have one for grating soap. Please bring what you have – Fay will bring bubble wrap and rolling noodles for those who need them.
Optional things to bring: needle-felt needles and foam, carders, coloured thread, embroidery thread, yarn, wool locks, loosely woven silk or cotton fabric, any interesting fibres that you would like to experiment with.
Please don't forget lunch, water bottle, and snack for the day!
Registration: $95 plus GST & Eventbrite Fees*
* or register by phone: 403-931-3633, Tues-Sat, 10 am – 4 pm to avoid Eventbrite fees . Registration closes on Thur. May 28, 2020, at 5 PM.
Fay has been felting for over 15 years and has had her work in local and national shows and sales all over Alberta. She is a member of the Bragg Creek Artisans, Sheep Creek Weavers, Alberta Craft Council and felt :: feutre canada and has taught classes and workshops in a variety of settings. She is currently enrolled in a BFA program at the Alberta College of Art and Design. To see some of her needle felt pieces OR to ask Fay a question about supplies, please check out her website at https://fayhodson.com/.