POSTPONED Oil and Cold Wax Painting with Dee Poisson
Cold wax with oil paint is satisfying and unlimited in technique and style. When applies with tools, this medium adds body to oil paint so that it can be applied like icing to create texture in your painting. At various points during the layering process, paint can be scraped back to reveal initial layers in beautiful patterns. Most of the time, cold wax art tends to be abstract in general, however, this medium lends itself to gorgeous textural and vibrant landscape painting. Adding cold wax to oil paint will open up a whole new exciting world for you and your art!
Audience: This workshop is suitable for adults and teenagers. No experience necessary! Come and have fun playing with texture and colour!
Supplies: All supplies will be included. This includes:
* 1 prepared wood panel
* ½ sheet arches oil paper
* Paint and cold wax
* Butcher paper palette and Nitrile gloves.
* All other application tools will also be supplied.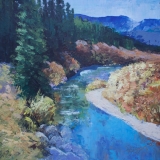 Please dress for a mess! Students should wear painting clothes and an apron. Long sleeves are recommended. Don't forget lunch, a water bottle, and a snack!
Registration cost: $115. plus GST & Eventbrite Fees*
* or register by phone: 403-931-3633, Tues-Sat, 10 am – 4 pm to avoid Eventbrite fees
Registration closes on Thursday, May 28 at 5:00 PM
Did you know that Members of the Leighton Art Centre get 10% off the registration cost of all workshops and kids' summer camps? Please visit www.leightoncentre.org/support/members.
For our Cancellation and Refund Policy, please visit www.leightoncentre.org/programs-events/adult-programs.
Artist/Instructor/Guide
Alberta Artist Dee Poisson creates interesting textured cold wax and oil paintings. The subject matter is inspired by landscapes and colour seen in the wild. Canadian nature art at its' finest!
Dee Poisson, AFCA – Artist Statement
"Through my work over the past 20 years, I have strived to share little things and places that people rush by every day without seeming to notice. I have been working in cold wax and oil for just over a year and it has become a mainstay in the art that I make now. The butter-cream texture of the medium along with the layering and excavating process are such fun.
My work shows the beauty of inconsequence. I endeavor to bring life to the ordinary so that it can be appreciated. I have learned to see and it's exciting that there is so much more to enjoy in our surroundings when we are not in a hurry."