POSTPONED Traditional Broom Making with David Campbell
March 16, 2020. At this time, we are postponing all art workshops through April 19, 2020. If you are currently registered for an art workshop between now and April 19, please watch your email inbox for a message over the next couple of days. We will be offering the opportunity to (a) receive a credit for future use, (b) convert your payment to a donation (with tax receipt) or (c) request a refund.
Make Your Own "Sweeping Beauty!"
Join local broom maker David Campbell for a one-day workshop in the centuries-old craft of handwoven broom making.
Participants are provided with all of the materials, tools, and instruction needed to make their own broom from start to finish, whether a floor broom, hearth or cobweb broom or even a "flying" ornamental broom.
These sturdy broom corn brooms, first popularized over 200 years ago, are truly "functional pieces of art" that may be displayed in your home while being used on a daily basis, inside or outside (floor brooms are great for patios and decks!).
Spring wedding coming up?
Hand-Woven Wedding Brooms make unique gifts for those all-important occasions. Wedding or Marriage Brooms first came into being during the late 1700s, when nuptial couples were encouraged to step over or "jump the broom", bringing them good luck and long-lived marital bliss.
The workshop start time is 10:00 am, with an expected end time of no later than 4:00 pm, or earlier. There will be a one-hour lunch break. Participants are asked to bring their own lunch and water. Tea and coffee will be available.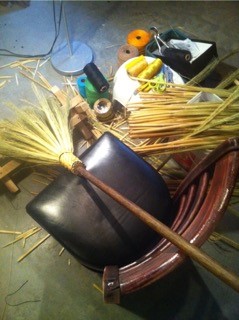 Workshops are limited to five participants each. A degree of hand and arm strength is required.
Audience: Adults & Teens please. No experience required!
Supplies: All supplies will be included.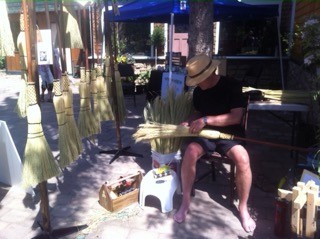 Registration cost: $140 + GST & Eventbrite Fees*
* or register by phone: 403-931-3633, Mon-Sat, 10 am – 4 pm to avoid Eventbrite fees
Did you know that Members of the Leighton Art Centre get 10% off the registration cost of all workshops and kids' summer camps? Please visit www.leightoncentre.org/support/members.
For our Cancellation and Refund Policy, please visit www.leightoncentre.org/programs-events/adult-programs.